If anyone was ever questioning whether it's worth getting an external antenna, or just sticking with the standard one, here's an experiment I did this week mapping more of Canberra and it made an ENORMOUS difference.
Earlier this week, I received my first hotspot – a Nebra Indoor unit which I bought of a guy on Facebook. The Nebra ships with the stock 3dBi internal antenna.
When I received the hotspot – Bumpy Laurel Bee – I set it up quickly and got it online – installing it on my desk, near a window on the ground floor of the house. I ran it there for a few days in anticipation of the weekend where I planned to install an external RAK 5.8dBi antenna on the roof.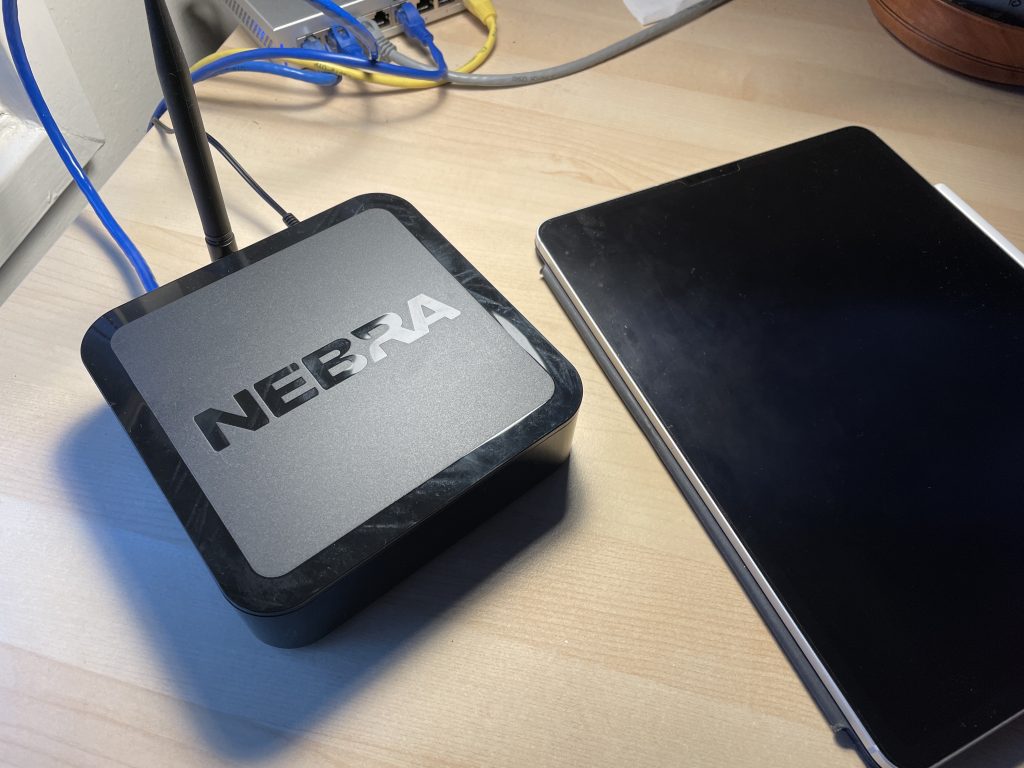 The Experiment
While I had it temporarily installed, I was curious to see how well my mapper performed and wanted to compare the coverage. I see this as the best method of simulating real world use cases of sensors using the Helium network. This is a perfect time to do a test like this, and still possible to do in Canberra. Since when the network grows, more hotspots/miners and antennas will start to appear, and doing the control experiment measuring the effectiveness of an antenna change will be very difficult.
How much difference does and internal vs external antenna REALLY make?
We're all investing in external antennas, masts and low-loss cables etc – how much difference would it make with an external antenna mounted on the roof?
BEFORE – The FIRST test
The control test involved the stock antenna and a sub-optimal install for the hotspot – indoors, but by a window with very little elevation.
Here's a BEFORE shot from https://mappers.helium.com indicating ALL of the coverage I had been able to map with my unit installed indoors and – while I can't confirm – i'm assuming the other two hotspots have stock indoor antennas, too. This involved a LOT of driving around, trying to fill in every hex possible.
This is my life now. 😉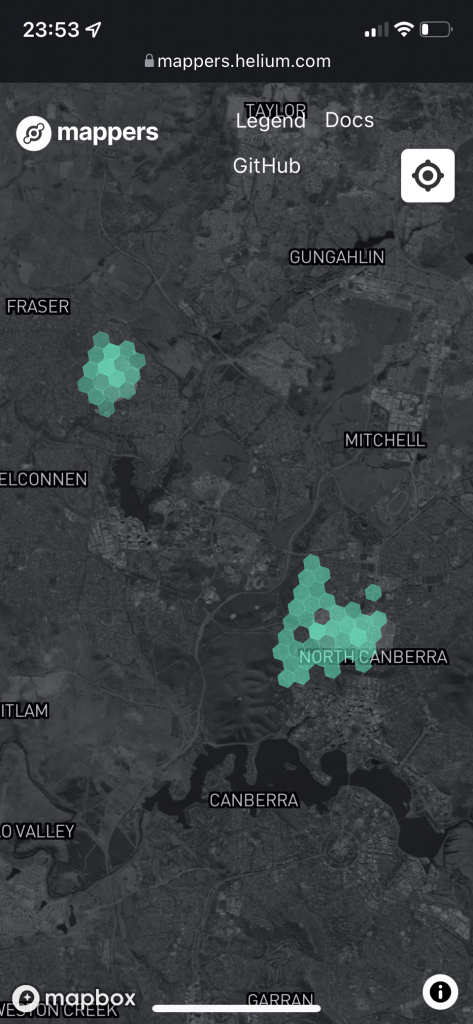 AFTER – The SECOND test
This weekend the kids and I got the RAK 5.8dBi antenna installed on the roof. Here it is mounted to an old Foxtel mount that's sturdy as heck. It's attached to a short, 1.5m length (I didn't have access to anything longer) of steel tubing I found around the neighbourhood. All in all, the antenna is probably 7m above ground level with clear line of site from the SSW around to the ESE. It's going a bit higher than this ultimately – hopefully another 3-4m – but this is the best I can do with what I had available this weekend: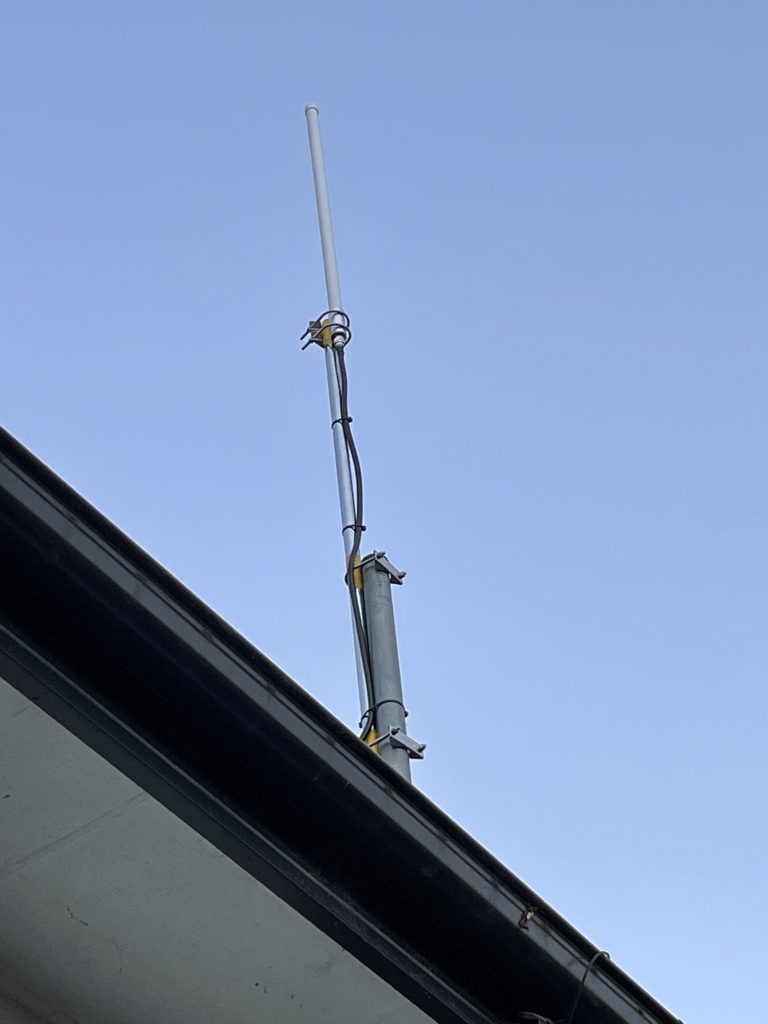 Time to take the mapper for another spin
With my trusty mapping companion, an iPad (running Console, Mappers and Cargo), and two mappers set up we set off to make a comparison run.
Note: While we had our control test – for the second experiment, in addition to the roof mounted external antenna, we changed one other factor on one of the mappers. We used the stock Nebra 3dBi antenna on the mapper itself. This no doubt improved the range of the antenna and skews the results more favourably, but given we were running TWO mappers, we could also see the difference the roof mounted antenna had on the the mapper with only the telemetry antenna at the same time.
The results were STAGGERING!
Several hours driving around town – for the science – yielded this: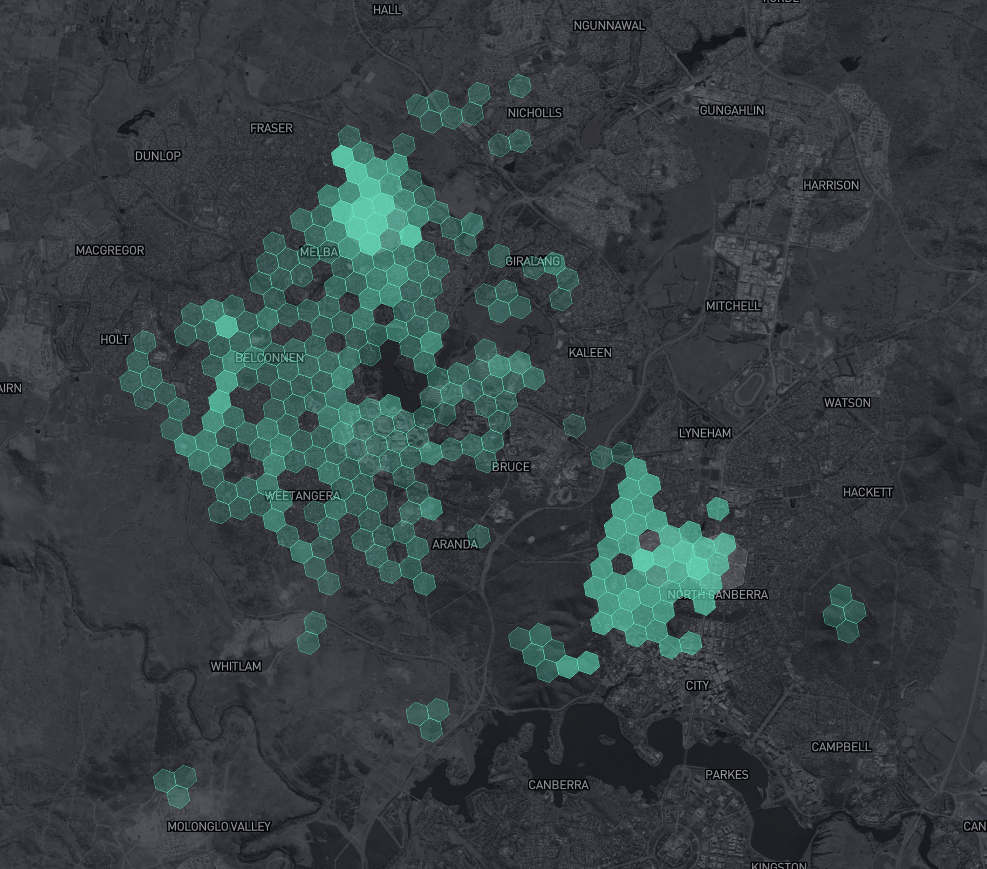 We also hit a few elevated locations like Black Mountain and Mount Ainslie, which were proud to have mapped first 🙂
Out of interest, here's what HotspotRF simulated – not a million miles off: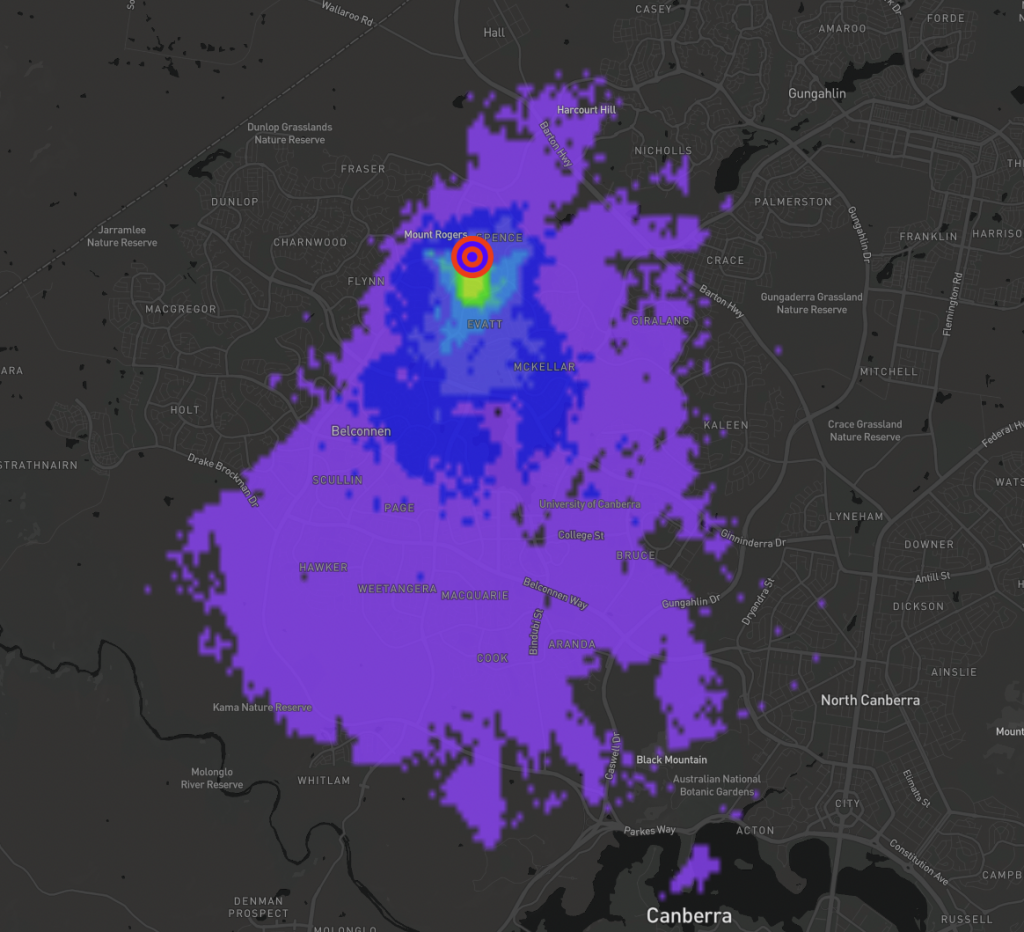 So if EVER there was any doubt as to the difference elevation, gain or internal vs external antenna makes, I hope this helps convince you.
What can we learn from this?
There's a lot we can learn from this. Here are 10 things I learned:
Firstly, I'm REALLY impressed with the coverage. It's one thing to know theoretically what's possible, but another to see actual, real-world coverage that a hotspot can provide to a sensor on the Helium network
Probably 80% or so of Belconnen is covered – no redundancy admittedly, BUT businesses could start using the Helium network in Belconnen, TODAY
I know where I need to place hotspots and what I can easily witness – it's gonna be super-handy comparing mapping coverage against the community planning map. We visited a few of the planned locations during our travels and know which ones we're going to witness and which we're not
This is coverage from a basic sensor, with a small antenna, position sub-optimally in the car. A fixed antenna on a house roof will do WAY better. In short, witnessing other hotspots will be easier still
Mountains SUCK! Mount Rogers casts an impenetrable barrier to the south-west for me – as HotspotRF simulated – we tried Dunlop and suburbs to the west but no dice
HotspotRF is a great simulation tool – if anything, it even seems a little on the conservative side in its simulations
Everyone should join 'the mapping train' – it's exercises like this that will prove the worth of the Helium network to businesses seeking to use it
The 3dBi antenna on one of the mappers also makes a big difference, BUT the telemetry antenna, kept up for the most part
So far the longest range we've managed to reach is a little over 11km – from a sensor! Hotspot witnesses would occur over MUCH longer distances, but Canberra's hilly topology will impede that no doubt
The mappers work incredibly well. I must admit I had doubts at first, as it was a bit hit and miss, but proper GPS and LoRa antennas, and well placed external hotspot/miner antennas make a really reliable and effective Helium network
That's it. A fun experiment with clear results. We'll continue to map and look forward to more hotspots hitting the Canberra scene to provide the coverage we need for the Helium network to be a viable option for businesses wanting to deploy sensors and tracking equipment.