Heliumtracker.io is 100% my new favourite thing. Here's a very mini review – or a bit of a teaser.
I'm sure we all do it. Refreshing Helium Explorer every few minutes all day, every day expecting things to change. No? Just me? Yeah, right!!
I'm here to tell you, that if you (like me) have a similar addiction, you no longer need to do this. Remember also that the first step to recovery is admitting you have a problem in the first place…work on that. 🙂
What does Heliumtracker.io do?
Heliumtracker.io is a relatively new web application/service that enables you to track all of your hotspots, their activity, the reward payments you receive for those activities, and information about your hosts and payments and the tools to more easily manage them, and a whole heap more.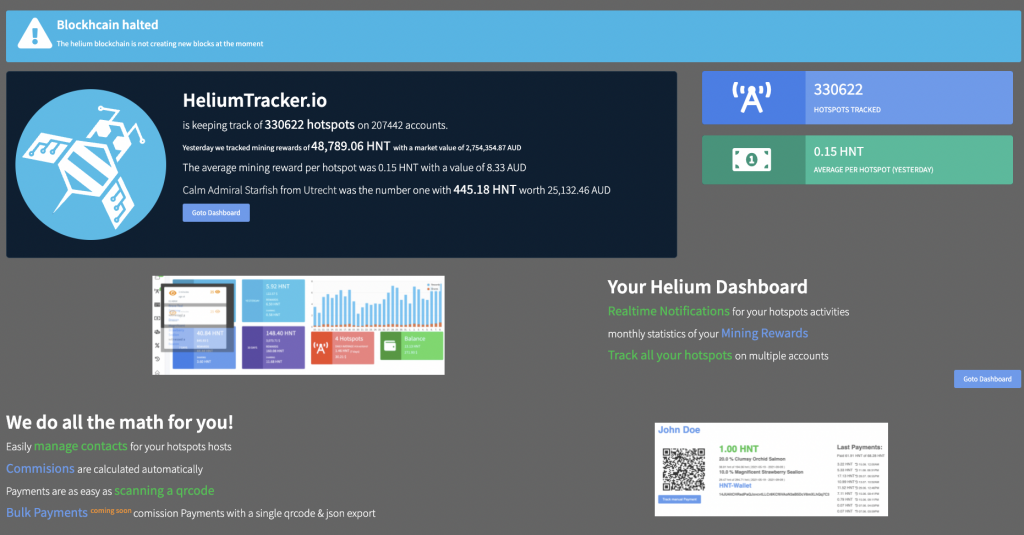 Heliumtracker.io is really intuitive, good looking, fun to use and (so far) seems to do everything right.
The competition – Hotspotty
I've been anticipating great things from Hotspotty, which promises to do many of the same things (especially on the hosting management side), but I have always been very disappointed with the rate of progress. Even the link on the homepage to the video for Hotspotty has been 'coming soon' for the last few months. 🙁

Hotspotty truly excels in the planning (no question) – which Heliumtracker.io doesn't do and to be fair, I think that's where the Hotspotty dev team's focus lies – I'll absolutely continue to use it for that. But until or unless they come out with some stellar hotspot hosting management features, I think Heliumtracker.io has that covered for me in a way that works the way I like to work.
So what can you exactly can you do in Heliumtracker.io?
The Dashboard view presents a snapshot of your earnings over the last various time periods (today, yesterday, 7d, 30d etc) your HNT balance and a breakdown of the earnings per hotspot along with a handy chart. On the lower half of the dashboard you see a blow-by-blow report of every transaction and witness, along with the associated reward payouts for any of your hotspots. These are easy to read, colour-coded and consolidated into the one list for ALL your hotspots which saves a lot of the clicking you currently *ahem* don't do with Helium Explorer and the Helium app…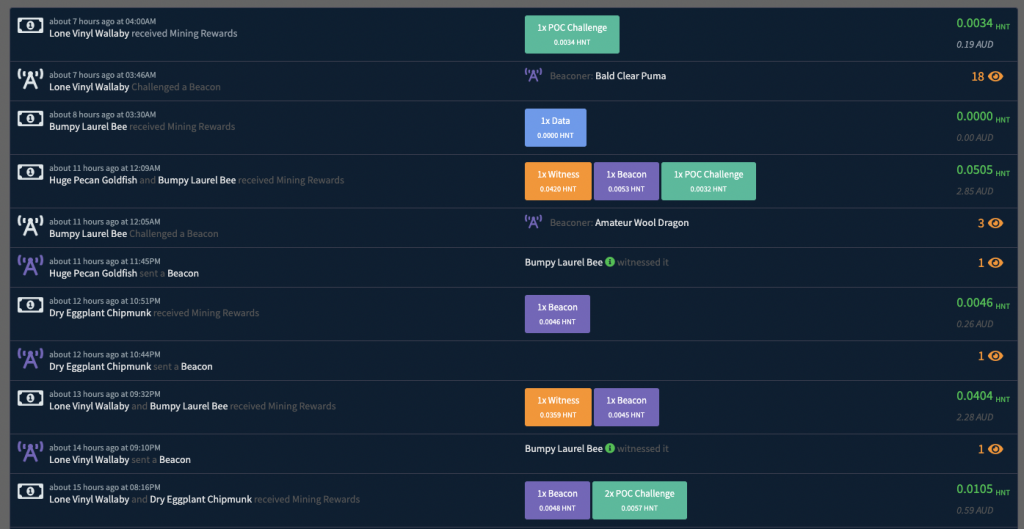 Adding hotspots to monitor/track is really easy by just entering in the wallet address and all of the hotspots are immediately imported. There is tagging available for those of you that have large fleets of hotspots to manage and need to group things together for different reasons.
Heliumtracker.io really excels in the management and payment of contacts and commissions for your Helium hotspot hosts too. Reports are available to download, both in CSV format and in a format that Koinly and other crypto accounting apps can understand.
Currencies can be customised in Settings and it appears they have most major currencies listed.
There is a small bug though if you have AUD selected and you export one of the reports, it lists the values of the transactions in those reports in USD. I've reported this issue to the developers and hopefully will see the reports available in local currencies too.
Helium hotspot/miner host management
When you add a Contact to the system you can record various contact information along with payment information-including options to pay your hosts in crypto, cash or PayPal. You can also record the contact's Helium wallet address and PayPal email address.
When it's time to pay your hosts, Heliumtracker.io conveniently generates a unique QR code containing the recorded wallet details and the payment amount necessary based on the commission rate you've agreed, making paying hosts as easy as scanning the QR code in the Helium app, checking the payment amount and clicking submit. Nifty.
The tool even generates a link to a custom dashboard for your individual hosts to use, which gives them their own unique view of the activities of their hotspot using many of the features available to the primary account holder. Very cool.
I have some payments to administer soon and some commissions to pay out. I'll be testing this functionality out fully very soon. However, in the meantime I will get a huge amount of value out of the dashboard function alone since it contains all of the information I'm wasting my time each day clicking through the Helium Explorer website to find the latest activities.
Some more cool things
There's also a cool My Neighbourhood feature – which comes with the paid plans. My Neighbourhood includes hotspots that you have encountered, and this list will build over time. When visiting My Neighbourhood you get to drill down and see all of the same fantastic detailed information but this time it's for the hotspots that yours have interacted with. Another thing I spend a lot of time on checking each day. My Neighbourhood is neat.
What's also fun about this app is the fact that periodically it will pipe up with cutesy sounds indicating your hotspots have been involved in some kind of activity. There's a fun 'cha-ching!' when rewards are paid out, and some kind of weird radio transmission sound effect when a beacon or witness occurs. Handy if you have it open on another tab are busy with other stuff.
What does it cost?
Signing for a free account allows you to monitor up to 3 hotspots and do most of the things that you might need. The more advanced plans (which you can demo for 24 hours) include the management of larger fleets of hotspots, more advanced reporting and other valuable features such as My Neighbourhood.
The paid plans are inexpensive starting at the HNT equivalent of about USD6 per month which will allow you to monitor 15 hotspots. or USD16 per month for unlimited hotspots. Fees are payable in HNT and there are discounts of up to 30% if you pre-pay a 12 month subscription.
I highly recommend you take a look at this fantastic web application to manage your Helium hotspots. The free version is perfect for monitoring a small number of hotspots, and the paid versions are well worth the money when your needs grow and you require the features of the paid plans.
Full disclosure all of the links on this page include an affiliate link. Should you decide to sign up for Heliumtracker.io please click the link and I'll get a small kickback as a referral fee. Do with that what you wish. 🙂 Thanks!